Det är inte ofta man får jobba med ett historiskt instrument. Den här parlor gitarren tillverkad av Pehr A. Anderberg i USA är en sån. Den har en fullt fungerande dragstång som patenterades av Anderberg redan 1894 innan Gibson patenterade sin variant på dragstång 1923. Pehr gick bort 1910 och patentet var ogiltigt när Gibson fick sitt patent. Här är Anderbergs patent från 1894. Gibsons patent från 1923.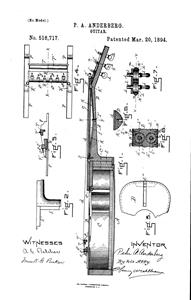 I patentet fanns förutom dragstången bland annat ett knepigt stall som faktiskt liknar den jag hittade på till min allra första "renovering" (som jag numera skäms lite över)! Flera flugor i en smäll alltså. "Dragstången" i patentet är faktiskt inte en stång utan en wire.
Allt började när min vän Farre (som varit lärling i lokalen två gånger) skickade en länk till en parlor som var till salu på en Svensk auktions site, Ekenbergs Auktioner i Karlshamn i Blekinge. Auktionisten hade tagit väldigt fina bilder och gitarren var mycket intressant, jag skrev "Köp den!" i svarsmailet.
Total längd:  95,5 cm
Lock (övre rundel, midja, nedre rundel): 23,5 –  19 – 33,5 cm
Sida (halskloss, midja, ändkloss): 9 – 9,8 – 10,8  cm
Hals: Mjuk V-form
Greppbräda (översadel, 12:e, stall):  47 – 57 – 59 mm
Mensur:   62,5 cm
Lack: Spritlack/Shellac
Vikt: 1274 g
Tjocklek lock: 2,8 mm
Tjocklek sida: 2 mm
Tjocklek botten 2,5 mm
Efter lite googlande på Anderberg hittade jag den här information i en gammal tidning, The Music Trade Review, från 1904 och även patentet.
WILL MAKE MANDOLINS AND GUITARS.
[Special to The Review.]
Boston, Mass., Jan 12, 1904. P. A. Anderberg-, who formerly made guitars and mandolins for John C. Haynes& Co., of this city, now merged in the Oliver Ditson Co., has formed a co-partner-ship with his son, Ralph H. Anderberg until recently a mandolin and guitar manufacturer of Mt. Vernon, N. Y., for the purpose of making guitars and mandolins. At present the factory of the two Anderbergs (father and son) is located at their home on Cottage street, Chelsea, Mass., but they contemplate moving their workrooms to Boston, in the near future.
Av en lycklig slump fick jag ett mail från Bruce Cowan i USA där han frågade efter detaljer på den Bauer gitarr från 1890 talet som Farre och jag renoverade upp vid ett av hans besök i lokalen. Citerar några av hans mail.
"George Bauer was a manufacturer, and I don't think he was a luthier. He came to Philadelphia around 1890 as a young salesman for the Boston company John C. Haynes, manufacturers of Bay State instruments and many others.
He started marketing his own make of guitars and mandolins in 1894. His luthier was Ernest Anderberg. In 1898, Bauer partnered with S. S. Stewart the banjo manufacturer, and then Stewart died. In the catalogue linked on your site it shows two lines of instruments, the Monogram and more expensive George Bauer line.
He supplied a Monogram equivalent to the Sears Roebuck catalogue company through 1903 or so. They were labeled Acme Professional, and I see one on your page. In 1898, Ernest left the company and his father Per Anderberg came to help ramp up production, as he had done with Bay State guitars in Boston. Per (usually spelled Pehr) was born near Malmo and learned the trade there. I've been in touch with Kenneth Sparr about that … perhaps you know him, as he is a Swedish guitar scholar.
(There were other Swedes at Bay State who went on to form Vega guitars and became VERY successful. Earlier, Per's brother Erland Anderberg started a factory in Mount Vernon New York. By 1900 it had 50 employees. I have not yet found out what labels went on them, but there must have been thousands! It continued until 1915. There's probably another article in these Swedish makers from the Boston area.)
Bauer had a lot of business trouble in 1901 or so, when he cut out the Stewarts, and the company reformed again in 1904 with his brother Emil at the helm. I think the company was gone by about 1911 or so. Emil was involved in the Keen-o-phone phonograph company, and it was gone by about 1914.
I found that Bauer died in 1946 in an insane asylum in Pennsylvania. I found other evidence of mental illness, and it may explain the business trouble in the early 1900s and why he disappeared from the music business."
Förutom detaljer om Bauer gitarren nämnde jag Anderberg gitarren i konversationen med honom och det visade sig att han antagligen är den i världen som vet mest om just Pehr A. Anderberg! Han var en av många i ett helt kollektiv av Svenska invandrare till USA som tillverkade gitarrer av hög kvalitet, antagligen var han en av de skickligaste och anlitades som hantverkare av flera stora tillverkare. Så här skriver Bruce i ett mail (där han inkluderade auktionsgitarren, den enda som är märkt P. A. Anderberg som han känner till).
"I think that I need to complete the Bauer story before I tackle the Anderberg story. With the Anderbergs I could look at other Swedish makers of that time in Boston, like the Nelsons. https://en.wikipedia.org/wiki/Vega_Company 
I have never seen an Anderberg labeled guitar. This is a rare object. Here's the basic P. A. Anderberg information I've researched. I didn't include the footnotes, but I have marked the sources.
Per Andersson Anderberg was born May 21,1838, in Tygelsjo near Malmo, Sweden (Swedish reference). He was an apprentice in the cabinet shop of Carl Johan Bergman in Malmö during the period 1854-1860. (Reference from Kenneth Sparr). He came to America in 1864 (1900  U.S. Census, Ernest's account). He made guitars for C. Bruno, the well-known Manhattan manufacturer and retailer. (Son Ernest's account).
In America, he was known as P. A. Anderberg or Pehr Anderberg. Records show that Pehr Anderberg married Hulda Elfrida Huppner (b. Sweden, 7 June 1851) in 1872 in Brooklyn.  (footnote church record).
The 1873/4 City Directory for New York lists a Peter Anderberg as a guitar maker working at on Pearl Street, in Manhattan, and living in Brooklyn. The directory shows no music retailers or manufacturers listed at that address in that era.
Pehr's brother Erland came to America in 1873 (later passport app), and the two of them made guitars in Mount Vernon, New York and the adjacent settlement of Washingtonville. Ernest Alfrid Anderberg (DATE) and Rolf Hugo Anderberg (DATE) were born at Mount Vernon. Erland manufactured guitars and mandolins there until about 1915.
Pehr and his family family moved to Malmo late in the 1870s, where son Edvin was born in 1880. Pehr had a retail store there (Ernest, Swedish source?) The family returned to the United States in August, 1882 (immigration records).
On their return they lived in the Boston area. P. A. Anderberg supplied guitars to the John C. Haynes & Co. From about 1888-1891, he was the foreman in their factory.
After that Anderberg went into business for himself in Chelsea, near Boston, manufacturing fretted instruments for August Pollman, a New York retailer. In 1894, he received a U. S. Patent 516717A, an improvement on guitar design, an adjustable stiffening wire that was the forerunner of the truss rod.  The only guitar this author has seen with Anderberg's name on it is likely from this period, and it has this improvement. It was sold at auction in Sweden in January 2021.
Around 1898, P. A. Anderberg began working for Stewart & Bauer in Philadelphia following the merger of banjo manufacturer S. S. Stewart and George Bauer, a maker of guitars and mandolins. Production was ramped up to supply "Acme Professional" instruments to Sears Roebuck & Co. (Anderberg's son Ernest, who had learned luthiery at his father's side, had been making guitars for Bauer since about 1893.)
In 1904, Anderberg was back in business in Chelsea, either as a repairer, maker, or both. In the summer of 1907, Hulda and Pehr visited Sweden. In April, 1908, Anderberg's shop was destroyed in the Chelsea fire.
Per Andersson Anderberg died in Chelsea on March 18, 1910. By then, his son Ernest had returned to Chelsea, and he continued working there as a repairer for a few more decades.
ATTACHED are a couple of screen shots from the main source. It is not completely accurate. I hope to visit Boston and see the author's papers. Also, the fire is out of historical sequence. I used a lot of maps and other resources.
The main source is viewable here: https://archive.org/details/contributionstoa00ayar  Searching the text does not connect with the table in the back of the book.
Gitarren var i bra skick men inte utan problem. Stallet var löst och botten hade en spricka i mittfogen och botten hade släppt mot sidan på några ställen. Locket var deformerat runt stallet och botten i ek insjunken. Stämskruvarna var väldigt konstiga och som det visade sig senare obrukbara då de kuggade runt när man försökte stämma. Halsen var böjd, orsaken var att dragstången inte varit åtdragen och den hade antagligen förvarats ospelad med uppstämda strängar många år. Halsen hade limmats om med snickarlim, det fanns även snickarlim i bottens mittfog och vid kanten av botten. Två mässingsspikar hade spikats in i halsfoten… Ändklossen visade sig senare vara spräckt på mitten. Sidan hade fått några nästan osynliga stickskador på två ställen, de kunde enkelt limmas ihop med varmt hudlim.
Jag var ju väldigt nyfiken på dragstångens konstruktion, då halsen måste sättas om var steget inte långt till att lossa greppbrädan för att verkligen kunna studera dragstången och underlätta att lossa halsen. Det visade sig att halsen hade en "Levin infästning" utan dovetail, det hade säkert gått bra att lossa halsen utan att ta lös grepppbrädan först.
För att platta till lock och botten plockades ribborna bort från botten och runt stallet i locket. Lock och botten blöttes upp ordentligt och sattes i press några dygn.
Resultatet blev bra.
Originalribborna i botten var deformerade och böjda åt fel håll, jag ersatta en som jag inte fick lös hel med en replika med samma mått, men med en radius åt andra hållet. De övriga originalribborna slipades på undersidan till en radius åt rätt håll. En extra mittsticka monterades för att hålla ihop mittfogen.
Två av ribborna i locket sprack längs ådringen när jag försökte lossa dom på grund av run-out. De ersattes med nya replikor med samma mått. Jag kunde inte riktigt hålla mig utan ersatte stallplattan och de två förstärkningarna i tunn lönn med gran. Runt strängpinnhålen limmades rundlar i lönn som förstärkning. Jag gjorde stallplattan lite bredare också för eventuell framtida montering av en KK mick. Med de nya ribborn fick locket en svag böj uppåt, speciellt den nya ribban under greppbrädan var bra då halsvinkeln till stallet blev bättre.
Botten kunde limmas utan större problem, en del av kanten av botten fick skrotas bort på det smalaste stället som vanligt. Den krympta botten har mindre omkrets än sidan, en enkel lösning är att trycka in sidan ett par mm på det smalaste stället för bästa passning.
Greppbrädan limmades tillbaka utan problem.
Eftersom dragstången stack upp fram och bak kunde jag inte sanda halsen rak. Istället försökte jag värma och böja tillbaka halsen med lös dragstång och ca 90 graders värme (det mesta jag tordes använda för att inte smälta lacken på baksidan av halsen). Det blev bättre, men inte helt bra. Halsen, i nån sorts fruktträd eller möjligen lönn, var styv och hård och ville inte gärna böja sig tillbaka.
Stallet, fortfarande med sina originalpinnar, limmades om med varmt hudlim. Stallets strängpinnhål hade djupa nötta skåror från strängarna, de var dessutom inte centrerade i hålet. Använde tejp som "mothåll" för superlim och slipdamm av rosewood som fyllde igen skårorna. Det lyckades bra!
Greppbrädan, som slipats plan, bandades om med nya och högre nickelband. Originalen sparades på ett "smatterband", de var mjuka inte av bästa kvalitet. De ljusare partierna i greppbrädan är de områden som inte sandades ned.
För att intonera bättre fylles bandskåran i stallet igen och ett nytt band monterades 2 mm längre ned på bas-sidan och 1 mm längre ned på diskantsidan. Några tidigare skador runt stallet doldes med gyllenbrun bets, den skrotade kanten på ekbotten bättrades på med spritlack med en tunn pensel. Nya Golden Age stämskruvar med svarta knoppar monterades.
Alla utbytta delar följer med i caset för gitarren. Efter fyra dygn med vibration är den öppen och ljudstark med mjuka Newtone Heritage 0.11 strängar och intonerar bra vid 12:e bandet. Jämfört med en GammelGura med alla finesser är tonen brutalare och mer primitiv än jag är van. Stallbandet och översadeln i ebenholts är några orsaker, kroppen i ek är däremot mer resonant än väntat. 100 års torkning gör nog sitt till!